Hello all. These are my thoughts about some of the big movies of 2010 that I have seen. Hope you enjoy!
(movies listed in alphabetical order)
Black Swan (dir. D. Aronofsky)

"That movie was insane." Those were the first words out of my mouth at the end of this picture. In a year including several excessively hyped acting performances (Hailee Steinfeld, Jennifer Lawrence), Natalie Portman's performance here is truly one for the ages. She owns this movie. As she slowly destroys herself, she becomes more and more terrifying. So much happens throughout the course of
Black Swan
, and I can't think of a scene where Portman does not make an appearance. Essentially everything that happens in the movie has something to do with her, and she is always involved somehow. This makes us see many sides of her, and not just the white and black swans. The versatility and passion she displays in the movie really showcases her talent as an actress. The movie's final act is mostly filled with beautifully shot scenes of the production of Swan Lake, perfectly married with the ballet's wonderful music.
Black Swan
is not for everyone, however. Darren Aronofsky's previous pictures are filled with adult material – note the amount of nudity in 2008's
The Wrestler
and
Requiem for a Dream
's NC-17 rating – and
Black Swan
is no exception. There is plenty of hot and heavy sex in the movie, and it got to be a little much. I definitely recommend it, though. The last scene gives me chills.
Exit Through The Gift Shop (dir. Banksy)
This is a really great, weird, entertaining little documentary that goes in a whole lot of different directions. The inside look at the world of illegal street art is pretty fascinating, but it's also really funny to see this goofy little French guy following the artists around. That's all I can really say about this movie, at this point. It ought to win Best Documentary Feature. If you're interested in art, documentaries, or movies at all, I'd recommend it to you.
How To Train Your Dragon (dir. C. Sanders/D. DeBlois)
Dreamworks is catching up. That's right, Pixar lovers. I'm not really a fan of Jay Baruchel, I'll say it, but he really worked with this movie, as did the rest of the voice acting cast, especially Craig Ferguson.
How to Train Your Dragon
's script leaves the dorky cheesiness of past Dreamworks animated features behind, resulting in a wonderfully hilarious and entertaining screenplay. So does the plot, which contains just the right amount of fun adventure time and poignancy. The most remarkable thing about this movie, though, and the aspect that kept my attention during the movie, is how beautiful it looks. The colors are stunning, and the animation is excellent. The human and reptilian characters in the movie move with realistic elegance. I'm slightly disappointed that this didn't get a Best Picture nomination, but that would have meant that the Academy would have to deny another great movie the recognition, so I'm not too broken up about it.
Inception (dir. C. Nolan)
Though
Inception
is far from being my favorite Christopher Nolan movie, and far from being my favorite movie I've seen this year, it's still fantastic. Nolan proves once again that he knows how to mess with our minds. Everyone worships the "dream" concept of Inception, but I also love it's ensemble cast, all of which do a phenomenal job. I am especially enthralled by Tom Hardy (Eames; Hardy is also set to play Bane in Nolan's next installment in the Batman franchise,
The Dark Knight Rises
), who plays his part with a witty sarcasm. Although, in my opinion, it's not the best movie on this list, it's certainly the most memorable. With the amount of attention it's received on the internet and other media, Inception will be the movie people still talk about in 30 years. I am really, really disappointed that the Academy didn't nominate Nolan for directing, because I think he's way, way overdue for an award. That being said, I'm pretty happy to see the Coens nominated, so it all evens out in the end, I guess…
The Kids Are All Right (dir. L. Cholodenko)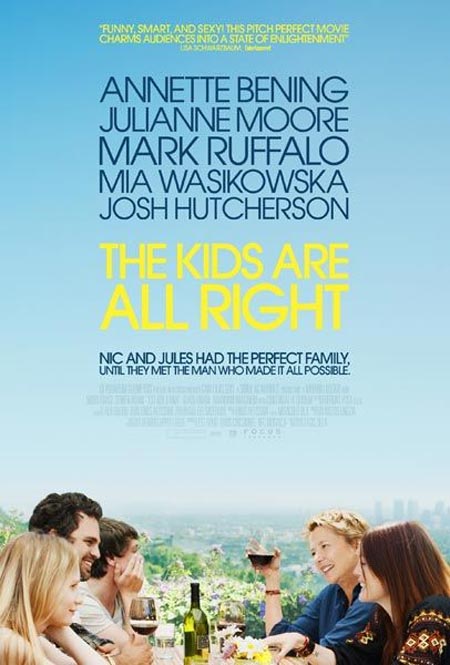 Here's another movie from this year that is good because of the strength of its cast's acting. All five leads are fantastic. By the end of the movie I really came to care about them and what happened to them a lot. I was pretty surprised to see a nomination for Mark Ruffalo, but it is well-deserved. This movie is less a comedy and more a heartwarming story about a family, but it succeeds in its un-ordinary situation. I still recommend it, but I maybe would have liked to see
The Town
nominated for Best Picture instead. But who am I to judge?
The Social Network
This is the best motion picture I've seen in 2010. From the moment the first scene started – and I made this painfully clear to my fellow moviegoers – I knew that I would love this movie. Aaron Sorkin's fast-paced and witty dialogue makes for a great version of the famously socially awkward character of Mark Zuckerberg, and Jesse Eisenberg plays him perfectly. This is a role Eisenberg was born to play. Ever since 2005's
The Squid and the Whale
, and especially in 2009's
Zombieland
, he has specialized in playing dryly humorous and sarcastic characters that speak in monotones and are void of most emotion. He does a fantastic job, and certainly deserves a Best Actor Oscar nomination (although Colin Firth will probably win the award for Tom Hooper's
The King's Speech
, a movie I have not yet seen). The best part about this movie is how thoroughly entertaining it is. I mentioned Sorkin's frantically paced dialogue; David Fincher has created an equally fast-paced picture around these words. As I watched the movie jump from scene to scene very quickly, it almost felt like I was watching a mash-up of the actual events in Zuckerberg's own head. The result of this is a captivating and enticing movie, which demands the viewer's attention from start to finish. I also want to mention that the last line of dialogue in this movie is one of my favorite lines in I've heard in a while. This is a must-see for anyone who cares about movies. It's just as well-put-together as last year's Best Picture winner,
The Hurt Locker
, and just as deserving of the award. I'd say it's still the front-runner for the award, since it won the Golden Globe, but I won't be surprised if
The King's Speech
ends up on top.
The Town
This movie is Ben Affleck's version of
The Departed
… No, just kidding, but it certainly feels that way.
The Town
is a smart crime thriller set in Boston. It has some of the most well-done, intense action sequences I've seen in a movie, ever. Affleck, although not a Boston native, does a great job characterizing the city. It gives the movie a flavor that's reminiscent of
The Departed
, but it's still quite different. Although the Supporting Actor award will probably go to Christian Bale or Geoffrey Rush, Jeremy Renner proves once again with his performance that he is truly a great actor. The intensity with which he plays his role is stunning. I've heard complaints from some people that say the characters in this movie are underdeveloped, but I'd like to tell these people that the original cut of The Town was four hours long. Affleck eventually had to cut it down to two for its theater release. I'm hoping that they will eventually release this full version on DVD. It will definitely give some new insight to this wonderful movie.
Toy Story 3
This is, predictably, another great hit for Pixar Animation Studios. Compared to its other two counterparts in the
Toy Story
trilogy, this installment is less an adventure story and more a poignant look at childhood. Having said that, it's just as enjoyable and entertaining, revisiting those classic characters we all know and love and introducing some new ones which are sure to become beloved, as well. Although, for me, Dreamworks'
How to Train Your Dragon
might have been just as good as far as animated pictures go,
Toy Story 3
is a sure-fire winner for the animated feature category, if only because of the Pixar name.
True Grit
The moviegoing experience that was
True Grit
was a lot of entertainment and a lot of fun, which is kind of what I've come to expect from the Brothers Coen. They have proven once again with this movie what great writers they are. Although it's somewhat different from another movie on this list with great dialogue,
True Grit
's script is hilarious, witty, and fantastic. Something else that's always fascinated me with the Coens' movies is the recurring appearance of rustic, rednecky characters. As the three leads traverse the Arkansas wilderness, they encounter plenty of these people – most notably a man wearing a real bearskin – and these moments are great. I was a little surprise to see the Coens nominated for directing, (as was the rest of the world with the ousting of Chris Nolan… again…) they definitely deserve it. Another remarkable part of this movie is young Hailee Steinfeld. I've mentioned the excessive hype surrounding several acting performances, but she keeps up with the veterans Bridges, Damon, and Brolin, demonstrating the same amount of "true grit" as the others (ha ha ha…). As she is clearly a lead actress in
True Grit
, the Academy obviously put her in the supporting category so that she would have a chance to win, and I think she will. She most definitely deserves it.
Winter's Bone
Brutally real,
Winter's Bone
is the most disturbing movie I've seen all year, because of how close to home it is. The picture takes place just a few hundred miles from where I now write this, in the Missouri Ozarks, in a region plagued by meth drug dealers and ensuing poverty. The people with whom the main character, Ree (played with stark emotion by Jennifer Lawrence), must interact have no intention of helping her at all. The general consensus among these people is every man for himself, and no one works together unless there is something big in it for them. Beautifully shot and extraordinarily well acted, director Debra Granik and the rest of her crew have crafted an excellent reality check here. It's not exactly entertaining, but it's quite a statement.
Movies I hope I get the chance to see before awards time:
127 Hours
The King's Speech
The Fighter
Blue Valentine
Restrepo
There you go, faithful followers. There's a lot of stuff that's still pretty up in the air, I think, but here are my picks for the big awards at the Academy Awards:
Best Picture:
The Social Network
Best Actor: Colin Firth (
The King's Speech
)
Best Actress: Natalie Portman (
Black Swan
)
Best Director: David Fincher (
The Social Network
)
Best Supporting Actor: Christian Bale (
The Fighter
)
Best Supporting Actress: Hailee Steinfeld (
True Grit
)
--Jacob Klopfenstein